Victory College was established in 1980 at its present location on Old Maryborough Road, Gympie, and was the former site of the Gympie Cattle Yards.
---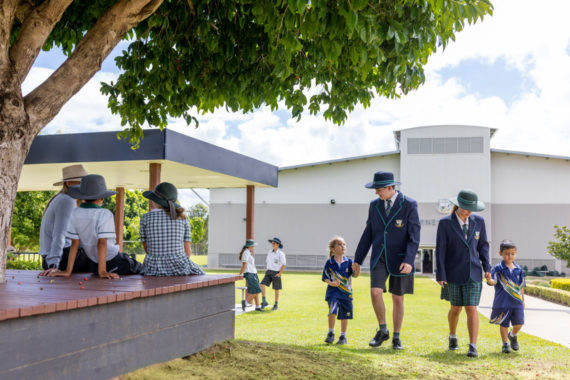 It was originally known as the Gympie Christian Academy and had humble beginnings with 2 teachers, 2 teacher aides and 36 students. The first classroom doubled as the church for the Christian Outreach Centre and was set up on a Monday and packed up each Friday afternoon.
By 1982 the College numbers had grown steadily and an administrator and additional staff were employed. In 1995 the College changed their curriculum from ACE to the Queensland State Education curriculum incorporating a Biblical worldview.
Following this, an additional 5 acres were purchased and many of the buildings refurbished. A new science and home economics block was built along with an Early Childhood Centre, a manual arts workshop and an art studio.
In 1996 the College introduced a change of uniform along with a new College crest and logo. Then in 1999 the College was renamed to Victory College in recognition of the 'victory' Christ achieved.
2010 saw the completion of further building development including a new library, an international-size sports stadium and a language centre.
In 2011 Victory College became an early adopter of the Australian Curriculum from Prep to Year 10 in Maths, English and Science. This decision saw our College be at the forefront of educational change and showed our commitment to ensuring academic standards were continually raised.
2012 was an exciting year as mykindy at Victory was opened offering 24 students a kindergarten education in the year before Prep. We also saw the transformation of our Victory College logo to the one it is today and new Secondary College dress uniforms were introduced.
In 2013 we opened our state-of-the art Science Labs and in 2015 our new Equestrian Centre was completed.
And in September 2017 we opened our new Hospitality Centre that features a professional kitchen and a front of house cafe where parents, staff and senior students can purchase various hot and cold drinks prepared by our barista, as well as delicious treats baked on site by hospitality students.
A roof and additional stables were added to the Equestrian Centre in 2018 and a new Arts Precinct was also built in 2021.
In early 2022 we completed the renovations and additions at mykindy with two full size classrooms and a new outdoor play area. A new two storey STEM and Art precinct was also completed.