Victory College currently employs two chaplains (male and female). $15,000 per annum towards these positions is currently funded under the National School Chaplaincy Programme by the Department of Education and Training.
---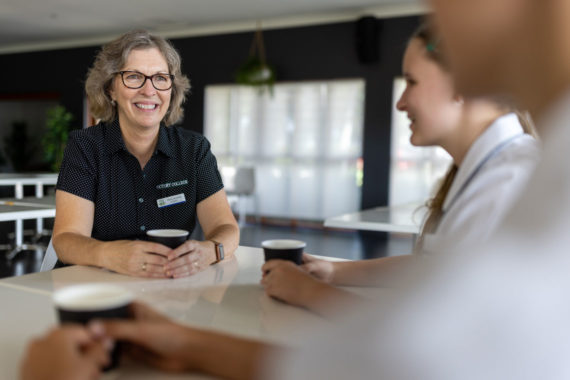 The aim of the Victory College Chaplaincy Program is to offer pastoral support to our students and community within our value framework of "Honour, Service and Excellence", supporting our mission "to equip each student to live a purposeful life".
The chaplain's role predominantly covers the following areas:
Providing and assisting students, their families and staff with support and/or appropriate referrals to a counsellor or wellbeing staff, in difficult situations such as during times of grief or when persons are facing personal or emotional challenges.
Supporting students to explore their spirituality and providing guidance about spirituality, values and ethical matters; referring students to, or sourcing, appropriate services to meet their needs; and facilitating access to support agencies in the community, where applicable.
Supporting students and staff to create an environment that promotes the physical, emotional, social and intellectual development and wellbeing of all students.
Supporting students and staff to create an environment of cooperation and mutual respect, promoting and understanding of diversity and the range of cultures and their related traditions.
Being approachable to all students, staff and members of the school community.
Supporting students, their families and staff of all beliefs and not seeking to impose any beliefs or persuade an individual toward a particular set of beliefs.
---
College Activities
Involvement in Chapel services and other assemblies
Planning and running fundraisers alongside the Student Representative Council
Planning and organising outreach activities
Implementation of Biblical Studies programs including curriculum support for teachers
Planning and running leadership development programs, a breakfast club, etc.
---
Pastoral Care
Providing counselling and support to staff, students and parents as required
Purposeful relationship-building within the College community through active involvement in both formal and informal events
Providing practical support through extra-curricular courses or activities for students, parents or staff
Developing pathways for extra counselling or support for students and parents, by external organisations
---
Networking
Liaising and developing relationships with local churches and their pastors/leaders
Assisting in promoting activities by para-church organisations
Developing relationships with local council, local businesses and non-church youth organisations
Liaising with Chaplains from other local schools
---
Access to Services
The chaplain has an "open door" policy for students, staff and parents wishing to discuss any concerns or seeking access to counselling or other pastoral care services. Appointments can also be made through the College office. All chaplaincy services (as in approaches to the Chaplain) are offered on a completely voluntary basis.